Hear what our clients have to say about RentWerx below.
RentWerx Testimonials
"I am highly satisfied with the property management staff and services of Brad Larsen's Real Property Management Company. It's not easy leaving your valuable assets in someone else's hands, but without hesitation, I immediately felt comfortable and assured with his approach and technological efficiency. Everything he promised was delivered above my expectations. The staff were equally efficient and professional each time I needed their assistance. Thanks again for alleviating apprehensions and delivering these services with your unique style. Highly recommended for anyone who needs a 21st century property management company."Ruby M., Client
"We had the pleasure to come across Brad's company recently after trying another agent / property manager and Brad and his company do a 100% better job in communication, taking ownership over the property, giving much needed advice on how to move forward, and making sure to treat our home as if it was their very own. From the beginning Brad has made our life simpler and he has made it more feasible to have a rental property. He is very detail oriented and makes sure to take care of all necessary steps in finding the right tenants, doing the diligence behind the entire process, and making sure our home is taken care of on every level. It's been great working with him and his friendly and helpful staff, and I look forward to working together more in the future. I would definitely recommend Brad and his company if you're looking for a great quality and very credible property management company."Tarek H., Client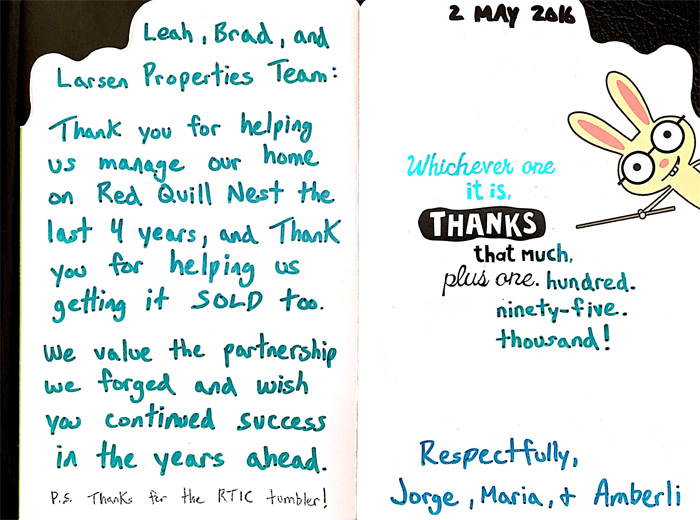 I would recommend Brad Larsen of Larsen property for your property rental manager because he is unlike any other ordinary property rental company in San Antonio. Previously, I had fired a "large" named company because they simply did not take care of my house, were late sending me rent payments, gouged me for any cleaning services or repairs and even charged for the trips to go look at what needed to be fixed. We were not even breaking even on the house due to the enormous property management fees, and erroneous repair bills.First of all Mr. Larsen does not have monthly fees, he charges a onetime fee for the entire lease. Secondly, he is technologically savvy and will post videos for you and step-by-step documentation of your home if it is cleaned and such. I found Mr. Larsen by the grace of God, because he saw my home was vacant and he took it upon himself to call me and send a business card. Three months later after finally evicting a tenant…. this is when I saw Mr. Larsen's expertise in full swing. He had my house professionally cleaned, painted, and landscaped all in the matter of 3 days. There is no way I could have done this myself because we live out of state. He was physically at the house and documented, with pictures and videos, the work that was done and at a great price as well.
Within one day of having my house listed on MLS, he had found our tenants and literally a lease was signed within 5 minutes on the computer via email. The efficiency of Mr. Larsen's work ethic and perseverance is unlike any other property manager I have ever seen before. He turned my nightmare rent house into a pleasant experience and I would recommend him for any of your property needs. I do not know how we could have taken care of the extreme mess the previous tenant had done to my house without him and thank him so much for going above and beyond for our family.
Jennifer Smith – Leavenworth, KS
"Brad exemplifies the REALTOR everyone wants to have. He listens to his clients…both buyers and sellers. With his experience, he is able to assist his client in making an educated decision that is best for them. Brad is a family man and knows the importance of a home for family. Ray Daily, Owner, Daily Inspections, Inc."Ray Daily, Home Inspector
One of the BEST IN THE BUSINESS. A true professional throughout every transaction!!!Keri Yuretich, Escrow Office – Independance Title
"If you plan on dipping a toe into the turbulent real estate market you want a guy like Brad on your side. His knowledge of the industry is par none, his sound integrity and professionalism create lasting trust and understanding, and his character shines as he goes above and beyond measurable goals to ensure clients are completely satisfied with what is often a very difficult and complex process."Charlie H., Client
This was our first landlord experience so we were a little nervous, especially because we were handling everything from out of state. Brad was very helpful with easing our minds and taking care of everything that needed to be handled. The transactions all went very smoothly and we couldn't be happier. We look forward to working with Brad again this summer when we put our house on the market.Krysta A., Client
"I have known Brad for several years and found him to be very knowledgeable and helpful in providing market information and insight. He is an aggressive negotiator who will work diligently for his clients best interests."Steve M., Client
"Brad is a consummate professional of the highest integrity achieving results that exceed expectations. I have trusted Brad for years on different real estate transactions. His experience and insights are valuable to getting the most value possible. Brad is wonderful to get along with in a stressful real estate situation. I highly recommend Brad to anyone that needs a great property management company or real estate broker."Derek G., Client
"I have known Brad a number of years, and we have worked together on several transactions. I have always found him to be an aggressive negotiator, setting the highest expectations for himself and for his clients. I recommend Brad without hesitation."Lance Bryce, Mortgage Broker
"I have had the privilege of knowing and working with Brad Larsen for the better part of the past decade. Brad is honest and hardworking, and very passionate about his profession. He is, and will continue to be, my first choice when it comes to my real estate needs."Jeff G., Classmate
"Brad is very knowledgeable in his field, as well as helpful, and available when you need his expertise. I would recommend him to anyone I know or come across that is in the market of purchasing a home. I look forward to working with him in the future."Jessica H., Client
"Brad's a great guy, and I highly recommend him."Lee L., Client
A SELECTION OF REVIEWS FROM YELP.com
14 October 2013 – Shannon K.
We have been using Larsen Properties to manage our home in San Antonio for the last three years and have highly enjoyed their service. They handle all the repairs, found us the right tenant to suit our situation, and do annual walk thru's with lots of photos. The most impressive is their use of video to both market the home and to do the inspection once a tenant vacates. On top of all that, they charge less than anyone else we could find. We highly recommend them!
12 September 2013 – Katy A.
We rented a house managed by Larsen Properties and were very pleased with the management company. The online tenant portal made it very easy to enter maintenance requests, find terms and forms for the lease, and pay rent. They have a very easy system that allows automatic withdrawal of rent. We had several maintenance requests that were all handled the same day or the next day. I would definitely recommend renting a property managed by Larsen Properties.
10 September 2013 – Tamara W.
This is a great family owned business. They are currently managing six of our rental properties in the San Antonio area. The monthly statements are great and easy to read. Repair issues are handled promptly and in cost effective manner. We are currently purchasing three more rental properties through this company on the west side of town. Looking forward to purchasing several more with Larsen Properties over the next several years. Cheers to the LP team!
9 September 2013 – Scott T.
We have been renting from Larsen Properties for the past 15 months. Our experience has been very good. We had to move to San Antonio on short notice. They got us into our rental in two days over the weekend, we were very grateful since we had been living in a motel with our two dogs and twin boys. We had an issue with the upstairs sink but it was resolved very quickly. We plan on renewing our lease for another year.
1 September 2013 – Brad C.
I recently went through this property management company to rent a home on the west side of San Antonio and found it to be trouble-free. I move a lot due to my job and I thought they were extremely easy to deal with. I prefer property management companies over a homeowner because I do not like dealing with continual drive-bys and expectations of how I should care for the premises. If I want to go 8 days without cutting the grass, instead of 7, I think I'll be okay. I've dealt with that before and I prefer a middleman to keep things professional. It is a smaller company which is nice because I can speak with the same person and if an issue does arise, they know who I am and I feel as if they actually care.
28 August 2013 – Sarah M.
I have been renting from Larsen Properties for the last two years. From the application process to the handling of maintenance issues my experience has been good. Staff is friendly and helpful as well.
22 July 2013 – Jason W.
We deal with property managers on a daily basis. In our experience Larsen Properties manages rental property as if they own it themselves. They take pride in staying up to date with current codes and regulations. I will recommend this company time and time again.
17 July 2013 – Amanda J.
I have been renting from Larsen Properties for the past two years. They are an excellent property management company. They are always responsive to my needs and requests. I would recommend this company to any potential renters looking for rentals in the San Antonio area.
4 July 2013 – Zach W.
Just yesterday, we have agreed with Larsen Properties on our third contract. Over the years, Brad has been responsive and professional. He knows the market and he tells me what I need to hear. In every situation, when I have needed attention or simply a question answered…the response has been immediate. I have and will continue to send Larsen Properties referrals and friends for their real estate transactions.
4 July 2013 – Joe F.
Brad Larsen and his staff @ Larsen Properties are the best in the business! I asked to list my property on short notice after making a career move and Brad gave us a detailed professional presentation outlining comparable properties and advised what price to ask! We had a rental contract in just two weeks and the automated owners portal makes it easy to manage my account and rent has been deposited in my account every Month! On time! Every time! Now, that the housing market improved, I asked the Larsen property team to find me a buyer for the property! Two days later the property was sold! If you want to rent, sell or buy, I highly recommend Larsen Properties to you! Brad and his team provide fast professional service, automated tools, and they are a highly motivated, customer service oriented team players!Thanks for all you've done for me and my family!Sincerely Joe F.