Follow us!

Oftentimes homeowners new to property management don't know what questions to ask the potential management companies they are considering.  In addition to comparing service, price, and reviews; these critical questions below will help you understand if this is a company you would want to work with.
---
WILL YOU SHOW MY PROPERTY TO PROSPECTIVE TENANTS WHEN IT IS CONVENIENT FOR THEM, IN ORDER TO RENT MY PROPERTY FASTER? DO YOU OFFER VACANT HOME SHOWINGS?
Most Agents force potential tenants to work around their schedule.  So, if your home is not conveniently located to the agent, they may not show it!
What we do:  We offer vacant, unaccompanied, home showings.  Once your home is vacant, we employ our code box system which allows tenants to view the property at their will.  Our system ensures your home is always available to show, and doesn't rely on rookie realtors to show your property.  This system is allowing us to rent homes faster, in 21 days on average in fact!
DOES YOUR COMPANY PROVIDE 24/7 EMERGENCY MAINTENANCE SERVICE?
Some companies offer no after-hours support, and would even expect the tenant to make minor fixes.  Others put one staff member in charge of handling any calls that may come in on weekends or after hours.  Some other companies still use untrained 3rd party vendors, who can do little more than take a message.
What we do: We utilize a service that is specially trained in handling maintenance calls.  They can differentiate between a routine call, which can wait until during business hours, or an emergency which needs to be handled immediately.
HOW DO YOU MARKET MY PROPERTY?
We market your property using SEVERAL methods.  First, we utilize the San Antonio or Austin MLS.  This database is accessible by any Real Estate agent in the area, and also connects to the major national real estate websites: Zillow, Trulia, RealEstate.com, and several others.  In addition to this, we have worked hard to move our company up the search results on Google.  In fact, that is likely where you found us.  This being said, when tenants are looking at Property Manager's websites for available Rental Homes, they typically will find our site first.  This puts our homes at an advantage of being seen first, and rented first.
In addition to our digital marketing strategy, we also utilize high quality photos and video to properly showcase your home.  Our video marketing strategy ties into our SEO strategy as well (Search Engine Optimization).  We hire a third party company to add in the back end coding to each marketing video to maximize the exposure your rental property will get.
Finally, we pay out commissions to Realtors who bring us tenants.  Still about half of our tenants use a Realtor to help them find their rental home.  So, we offer commissions to these agents, to entice them to work with us.  Furthermore, we also have leasing agents on staff who are dedicated to renting our properties!
What this means?  RentWerx is renting homes FASTER than anyone in the market!  We will rent your home in 21 Days or offer the first two months of management free!  Learn more about our 21 Day Guarantee on our site RentWerxSA.com
HOW FAST WILL I GET MY MONEY?
Many managers will wait until the following month to pay their owners.
What we do:  We pay rent payments to owners by the 9th of every month they are collected.  Depending on how quickly you bank makes deposits, the funds are typically available within 1-3 Business days after being sent.
DO YOU HAVE A STAFF MEMBER THAT HAS AN INDUSTRY DESIGNATION SPECIFIC TO RESIDENTIAL PROPERTY MANAGEMENT?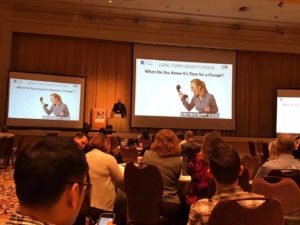 Being a part of the National Association of Residential Property Managers (NARPM) is a must.  You learn best practices from industry leaders, and are able to learn from others techniques that are benefiting their clients.
Our broker, Brad Larsen, is not only a member of NARPM, he also routinely puts on presentations across the Globe, to teach other property managers the techniques we have mastered.  If you are looking for an industry leading company, look no further than RentWerx.
HOW BIG (OR SMALL) IS YOUR COMPANY?
The size of the company you choose to work with will have an impact on the service you receive.  Smaller companies, managing around 100 doors or less, have very few systems in place to efficiently manage properties.  In most cases, they are managing homes as a side business, and are rarely able to keep up.  We DAILY receive calls from homeowners working with these small property managers, who are dissatisfied with their lack of professionalism, and outright ineptitude.
Large corporations that are managing 10,000+ homes across the country, may have available systems to manage the homes, but they rarely have enough employees on the ground to properly oversee operations.  Don't be fooled by low rates, and grand promises: These companies are only looking at the bottom line, and are hardly local experts.
RentWerx is locally owned, and has been managing homes in the San Antonio and Austin Market for over a decade.  We have grown in this time to manage over 900+ homes, increasing the number of properties we manage each year.  The strategy for the future is to continue to expand in the market we master, and become the only choice for property management in the greater San Antonio area and Austin.
WHAT TYPE OF PROPERTY DO THEY SPECIALIZE IN?
If a company specializes in managing apartment complexes, HOA's, or other Multifamily units, they may not have the systems in place to take care of your single family home.  RentWerx manages over 700 Single Family Homes, and is completely set up to handle any issue that may arise.  Just because a company manages property, doesn't mean they can manage YOUR property.
CAN TENANTS APPLY TO RENT ONLINE? CAN TENANTS PAY RENT ONLINE?
Yes!  Tenants can apply for a home in minutes on our website.  If approved, they can even move in without ever having to come into the office, with our LockBox Move-In program.  From there the tenant can make online rent payments, from wherever they may be in the world.

Type in your address and select it from the dropdown list to continue.