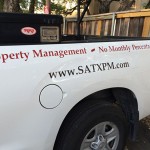 RentWerx San Antonio is actively seeking licensed Realtors who can assist in handling the enormous amount of leads generated through our online marketing efforts. Our Realtors receive daily online leads for tenants needing assistance in finding a rental home.
This is an excellent opportunity to "Meet the People" – which is the key to opening up new business as a Real Estate Salesperson.
Free Leads
Business Cards and Signs Provided
Office Space Available
Conference Room Available
80/20 FLAT COMMISSION
No E/O. No Copy Fees. No Desk Fees.
Lifetime Referral Opportunities for Realtor Recruiting
CONTACT US – Send your resume to Careers@SATXPM.com
Agent Referrals
Active real estate agents who need assistance with referring a property manager they can trust have found their referral source!
RentWerx San Antonio pays 25% of the gross commission income to referring agents!
RentWerx San Antonio adds the referring agent's name into all the property management paperwork and electronic management software.
RentWerx San Antonio GUARANTEE's to return that customer to the referring agent when they are ready to sell their home!
Join The RentWerx San Antonio Team today
Contact us at (210) 497-8686.